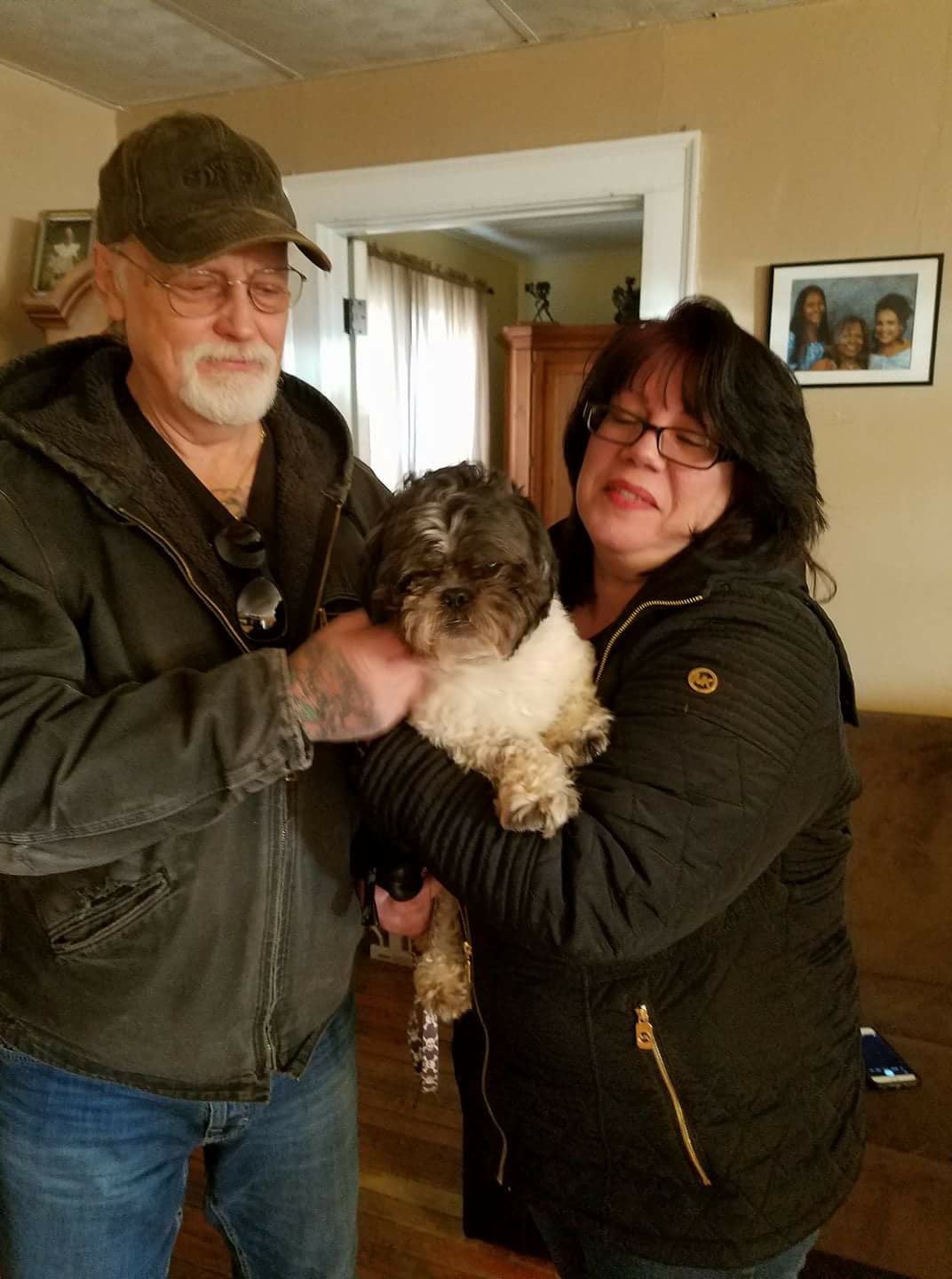 Gizmo
Look at this face!!! Gizmo is between 2 to 3 years old and quite the little charmer. He is neutered, UTD with his shots and is cat, dog and children friendly.
His foster mom said that he is such a laid back little boy. He is supper friendly and follows her 2 year old grandson around like a little puppy dog…no pun intended.
Lets get this little guy a family !!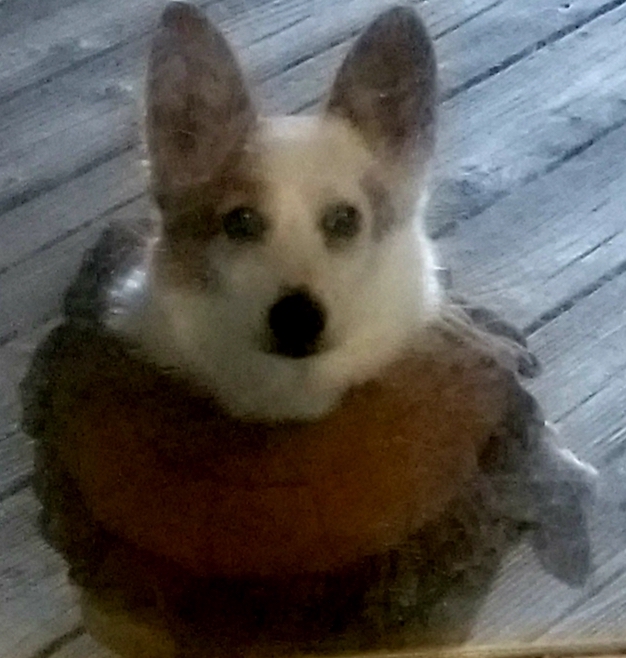 Tulip
Beautiful little Tulip arrived to us with severe skin infections. She had flea dermatitis and food allergies. She is also deaf. She is on meds and is healing wonderfully now.
She is 11 years young and the sweetest thing. She is UTD on all shots. We recommend a home without children as she doesn't really liked to be picked up at this point. She does get along with well other dogs. A nice quiet "retirement home" would be perfect for her.
Dudley
Dudley was found dodging traffic on a very busy street! He was one of the worst matted cases our groomer had ever seen!! Well after a nice haircut, bath and a trip to the Vet he is ready for adoption!
Dudley is a Bichon Mix, approx 10 pounds and estimated to be between 1 to 2 years of age. He is neutered and UTD with his shots. He is housebroken and gets along great with other dogs. Not sure on cats. His foster mom says " he loves to cuddle, play fetch, is very sweet, loves attention and is very smart.
When meeting someone for the first time he needs to be reassured that its ok but then is instantly cuddling with them." Wouldnt you love to welcome this little Gentleman into your home?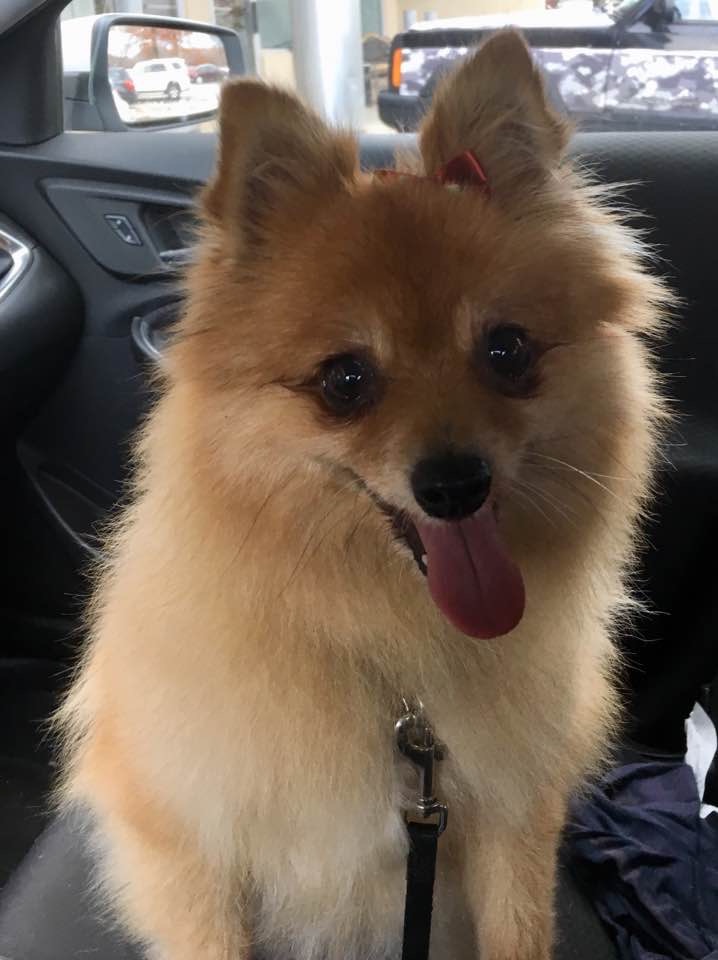 Bella
Another beautiful pup looking for her furever home. Perfect lady lap dog.
Bella is a 6-7 year old Pomeranian. Fluffy ginger coat. She does well with cats and dogs but can be a little possessive with her food and her favorite human so small children is not the best fit for her.
She is house broken, crate trained and likes walks on a leash but doesn't need to go far for a workout on these little legs! Ok for small home and yard.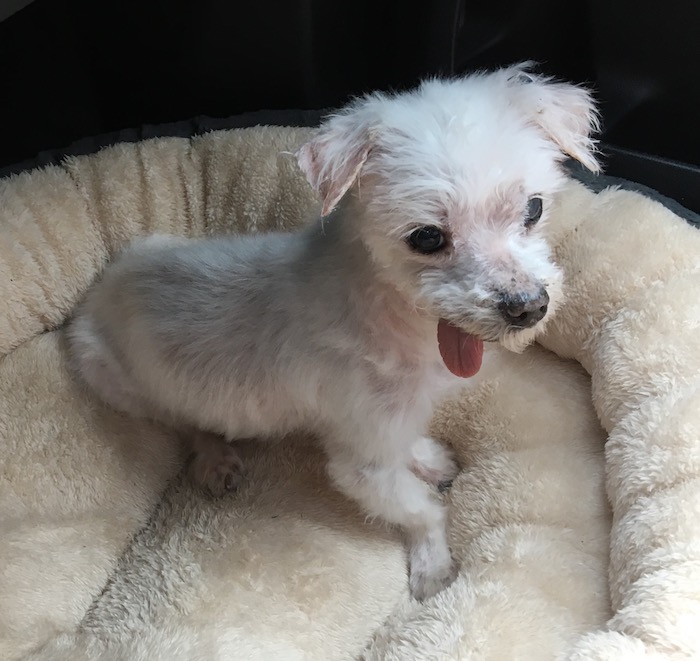 Muffi
Our precious little Muffi is a 12 year young Maltese. Can you even believe this guys adorableness!!?? Muffi was an owner surrender because his daddy was an older gentleman and was just getting to frail to be able to care for him correctly.
Muffi was actually in pretty bad shape when he arrived at our rescue. But after some fabulous care and TLC from his foster mom Vicki as well as our wonderful Veterinarian Muffi is finally able to go to his forever home.
Muffi is pretty low maintenance. He just needs a comfy bed and some love. He is neutered, UTD on vaccines and housebroken. He also gets along well with other dogs. Not sure on cats.
Murray
Murray was found as a stray after wandering the streets for weeks having to fend for himself. When he came to us he was only 10 pounds and the poor little guys bones were showing. He was in so much pain as his teeth were horrendous. They were all rotten and filthy and his gums were inflamed and abscessed.
After getting a complete dental work up and some fattening up our little guy is finally ready to be adopted. Murray is approximately 10 years old but acts much younger. He now Weighs about 13 pounds. He is a Havanese mix and the sweetest little guy.
Murray is neutered, UTD on shots and microchipped. He is housebroken as well as wee wee pad trained. He gets along great with other dogs as well as cats. He is truly a little lover and is very affectionate.
He is the perfect little man.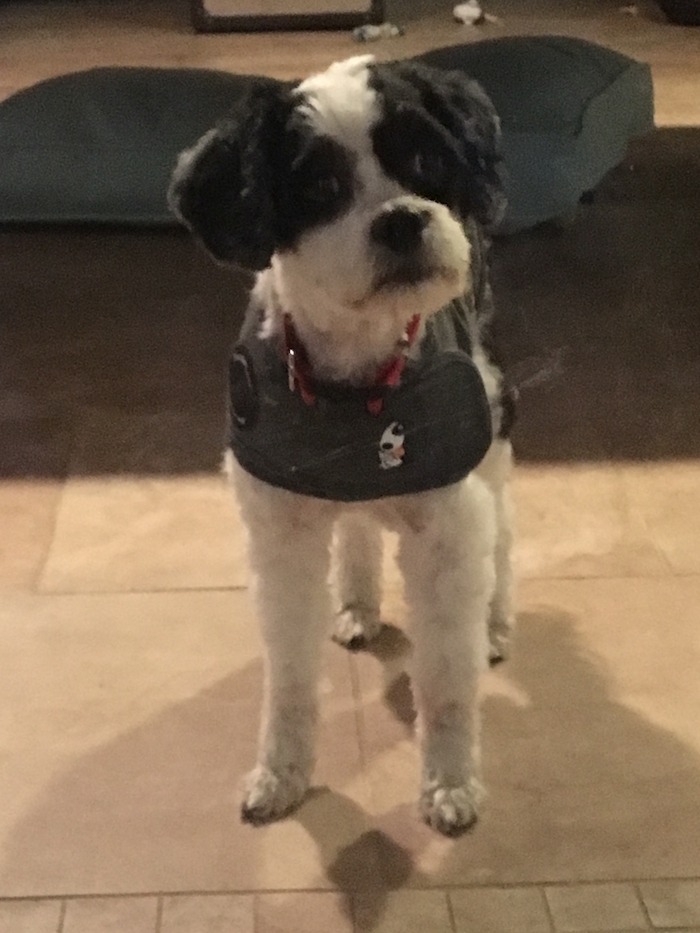 Madison
Madison was being surrendered by her previous owner to a shelter on Long Island. Her owner said he was losing his home and couldn't keep her. But to put a 9.5 year old dog in a shelter would have been beyond cruel so some volunteers called us and of course we took her in.
Madison is a little nervous of thunder and lightning and fireworks too. Most dogs are. She wears her thundershirt like a champ and it works pretty well for her.
She is a lovely dog and likes to play by herself or with her person. She would do fine as an only dog. She does not like cats.
Madison is current on her vaccines, weighs about 13 lbs and has just had a dental done. All she needs now is someone who will love her and care for her for the rest of her life.
Madison is a very healthy dog and has a lot of energy. She loves going for walks too.
Madison is located in Freeport N.Y, Her adoption fee is $300.00
Health & behavior: House-Trained Spayed / Neutered Vaccinated
Katie
SPONSORSHIP NEEDED
SPONSORSHIP NEEDED
Katie was taken into a rescue in PA and then suffered horribly. She had problems with her hind legs and because she went to a horrid person who was hoarding dogs and letting them live in filth, without medical care and little food or water her muscles wasted away. She was found by animal control laying in her own waste with another dog who couldn't walk. Living in unbearable heat in the dark with no running water and not understanding why she was there and not knowing that there was a better life coming she just started to fade away. When Katie came to us she wouldn't eat and was just not there. We knew that she wanted to live but she was so sick. She was quickly diagnosed with sever pancreatitis which is a horribly painful condition and we also discovered that she did have feeling in her hind legs.
We started treating the pancreatitis immediately and her foster mom willed her to live. Mommy Maria wasn't going to let our Katie go without a helluva fight. She washes her and changes her diaper every few hours and when Katie doesn't want to eat she cooks for her and hand feeds her. And don't tell anyone but Daddy Chris sneaks her fries sometimes. She loves them.
Katie's been having her ups and downs but lately she's having more ups. We are so happy that she's here with us but we need help to get her really well. Katie didn't deserve what this pos fake rescuer did to her. To be saved from one hell only to go to another is a horrible thing. Please let us show her that life can be wonderful!
We constantly take in pups that no other rescues will take. Whether due to illness or behavior they all deserve a chance at a good life. Please find it in your heart to contribute to one of our special needs pups with a donation. They are such good babies and got a really crappy hand dealt to them originally. Now we will care for them and love them. Perhaps they will even find their very own furever home.
Please contact us at info@ourbestfriendsrescue.org if you have any questions or simply click on the link below to donate. 100% of all donations go to the animals. None of us are paid and we all work full time in addition to doing rescue. It's about the pups and only about the pups.
Special needs • Coat Length: Medium
Miss Dixie
SPONSORSHIP NEEDED
Poor Miss Dixie was found wandering the road in Mobile Alabama. She was taken to the shelter but they didn't have the resources to care for her or diagnose her. She was missing a considerable amount of her fur, had skin tags all over her body and a large mass on her side. She had obviously not been taken to a vet or cared for in a long time.
No other rescues would take a chance on her but when we were asked we saw those gorgeous eyes and couldn't say no. She needed us and we needed her.
So the journey started from Mobile to NY. We got her to a vet there immediately to start her care. Blood work was done and we found out she had a thyroid condition. She was started on medication for that immediately. Other tests needed to be done but we had to start her transport so that would have to wait a few days. Off she went to her foster till we could get her to South Carolina for the New York transport. And then she finally got her to us. She won fans and friends along the way with anyone that looked into those eyes! She has something special.
Once she got here we took her to our Dr's and tested her for Cushings Disease. It came back as positive for the kind that stems from the pituitary gland. There is no cure for Cushings but it is treatable and now we are getting her medication levels worked out. Once that's under control we will have the mass on her side removed so she is more comfortable. It's quite large and is heavy for her to carry around. Plus she'll be able to expand her wardrobe once she has a waist again!
We constantly take in pups that no other rescues will take. Whether due to illness or behavior they all deserve a chance at a good life.
Please find it in your heart to contribute to one of our special needs pups with a donation. They are such good babies and got a really crappy hand dealt to them originally. Now we will care for them and love them. Perhaps they will even find their very own furever home.
Please contact us at info@ourbestfriendsrescue.org if you have any questions or simply click the link below to sponsor Miss Dixie. 100% of all donations go to the animals. None of us are paid and we all work full time in addition to doing rescue. It's about the pups and only about the pups.
Miss Dixie is Special needs • Coat Length: Medium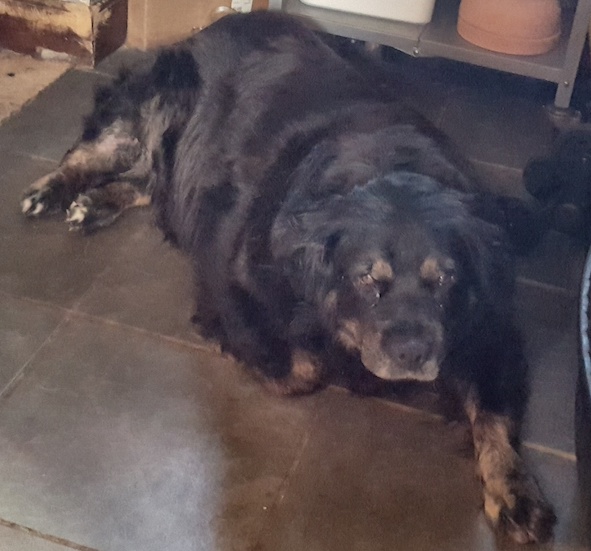 Honey
Honey was seized by animal control due to neglect. She lived in a trailer with a hoarder who couldn't care for her. The back story of her life is a very unpleasant one and we won't disgust you with it. The faint of heart would be appalled by it just as we were.
She was fed out of dumpsters (overfed) and lived on Kentucky Fried Chicken waste for many years. She came to us completely obese, weighing in at 105 lbs. although she should ideally weigh around 55 lbs. and was so heavy she could barely walk. She is slowly losing weight and starting to be able to go for a walk for around 4 blocks.
Honey was never bathed or brushed, both of which she does enjoy. She can't get enough love and pets. She's very mellow and is a wonderful companion. She would do great with someone who would walk her 2 or 3 times a day, 4 would even work for her. She gets one cup of kibble a day and lots of frozen green beans with it.
Honey is such a pretty girl and all she wants is to be loved and to love her human. She is good with most dogs but can be dog selective so a meet and greet is a must if other dogs are in the household. We think she would be fine with children as she is a very gentle girl.
Honey's ideal home would be with someone older and a peaceful place. She's been through so much and just deserves to be the princess she should have always been. Honey is located in Mountaintop PA. Her adoption fee is $300.00. We do not ship our dogs to adopters.
An application and home check is done prior to any meet and greets. Our dogs are all home fostered. All meet and greets are by appointment only after an application is received and fully checked.
If you are interested in adopting this wonderful pup please email us at info@ourbestfriendsrescue.org for an application.
Honey is House trained • Spayed/Neutered • Current on vaccinations • Coat Length: Medium
Kingston
I know it's been said before but seriously this is the greatest dog ever! He is a complete sweetheart and so handsome! He's just really a perfect guy in every way.
When we saw him in the shelter we figured he'd be adopted in a NY minute but somehow he wasn't. So of course we wanted him!!!
Then his original family called, they had been out of town when he "got left outside" and said they really didn't want him back anyway. Freaking jerks! So their loss will be another families gain.
Kingston is 3 years old and weighs in at about 50 lbs. He is housebroken, microchipped and fully vaccinated. He doesn't go on the furniture but will step up to give you a big hug.
He's a little timid meeting new dogs and kitties but is very gentle with all. He is learning how to play and have fun with them.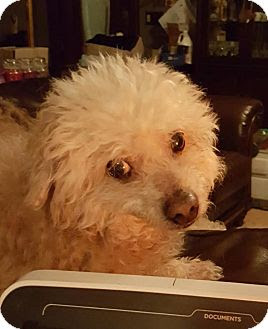 Poopie
Poopie was found in the streets and in horrible shape. The abuse and neglect this poor little guy must have gone through is beyond what we ever want to imagine.
Another "rescue" stepped up and took him but then brought him back because they said he bit them. No one noticed that he had rotting teeth, infected anal glands and his knees and hips were arthritic. That's great! He was still suffering and with people who didn't have a clue and didn't take him to the vet.
The shelter asked us to give him a chance and of course we did. We went to meet him and evaluate him with our trainer and no matter what we did we couldn't get him to react. So we made arrangements to pick him up and bring him into the rescue.
Poopie has since had his dental and his other end tended to also 🙂 He is on an anti-inflammatory for his joints. And doing much much better. We found that he is afraid of falling and when he's sitting on the couch he may get scared that he's going to be pushed off and get hurt. He will open his mouth in reaction but has never bitten. He loves to lounge around and enjoys sleeping on the bed.
We are working on his potty habits and he does well on a leash or when taken out but does take his time getting to the business at hand. He will use wee wee pads if he knows where they are.
Poopie was aged at 11 yrs but because of his prior life of neglect he may be a bit younger. We can't be sure. He doesn't like his face clipped but will let you wash it and will stand in the sink nicely for a shampooing. He loves getting towel dried too! He weighs in at about 10 lbs.
Poopie is a little frightened of other dogs and will act like a tough guy but then he'll just wimp out. A meet and greet with other animals in the household is absolutely necessary!!!
He's been through enough in his life and he's such a sweet boy that we will only place him in the best of homes with someone who understands what he's been through and will be patient with him learning to trust them.
Poopie has learned to scamper when we come in the house and when you call him with a funny "doggy cuteness" voice. He has come such a long way and just needs the right home to spend his golden years in comfort and with love.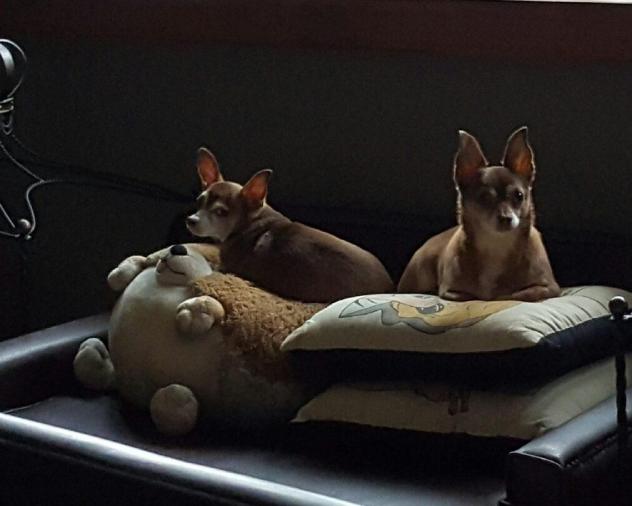 Champ and Lucky
Meet Champ and Lucky! These two are truly the sweetest Chi's I've ever met! They came from a home that had 3 very large dogs also. Two of the big dogs wanted to snack on Lucky and Champ so the family asked us to find them a safe and loving home. Of course we said yes.
The boys were pretty confused and very scared when they first arrived. I would be too if this happened to me!!! They are getting comfortable now and have their own side room open to the living room so they see whats going on 🙂
They are both 4 yrs old, house broken, neutered and utd with vaccines.
They are actually not really barky for chi's, not at all, but that could change.
We would prefer a home for them together. They have been together all their lives and are so little. They are both house trained, neutered and current on vaccinations.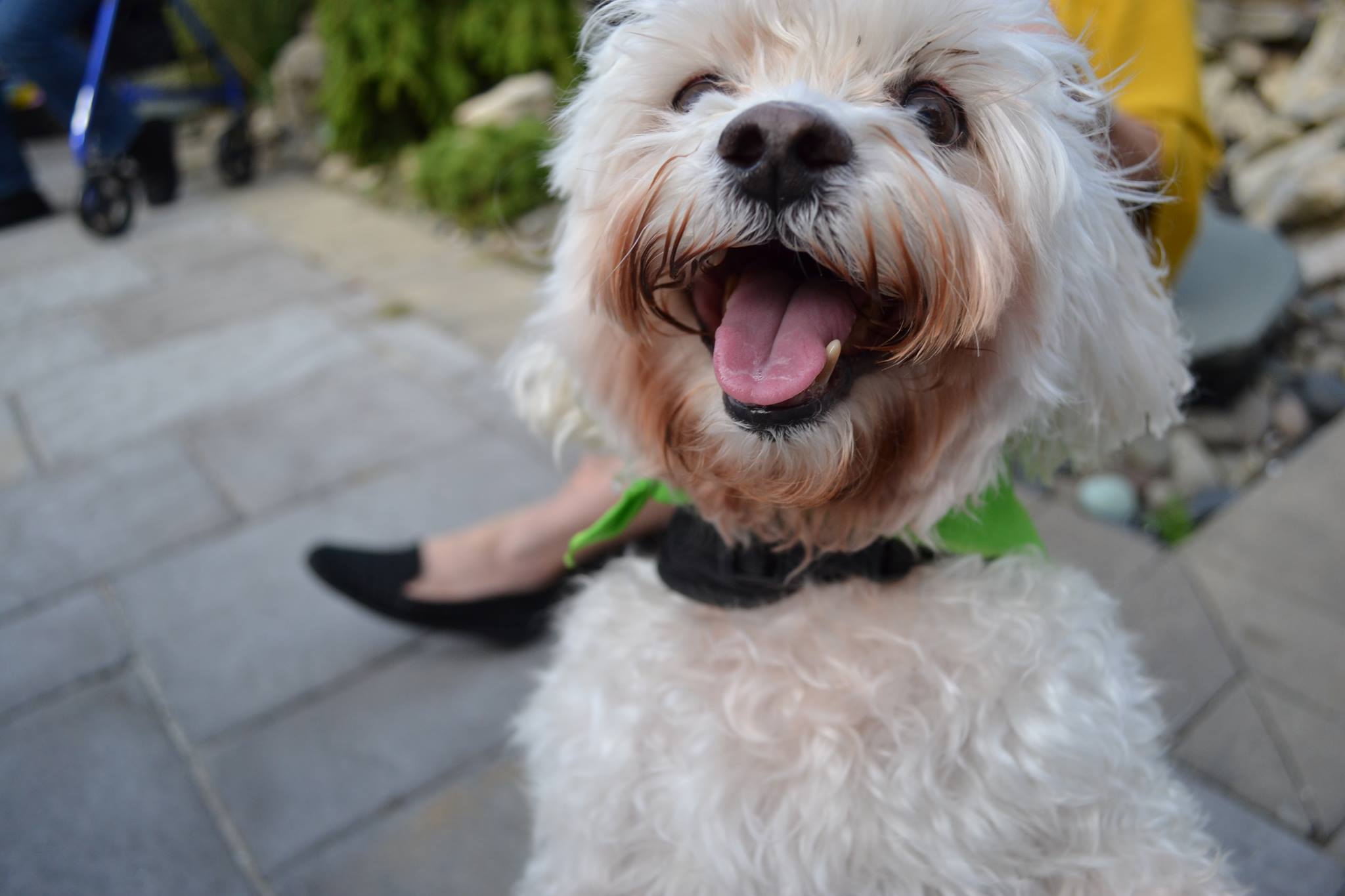 Shamrock
Adorable little Shamrock lost his home when his elderly owner moved to an assisted living facility. He had a large growth on his head and we were told it was a tumor. After a medical consultation with our Vet it was determined that it was a hair cyst and not a dangerous tumor after all. Unfortunately, that isn't the least of poor Shamrocks troubles. He soon after started having seizures and is exhibiting symptoms of dementia.  If we can find someone willing to adopt Shamrock that would be fabulous but it needs to be a good home with someone who is aware of the severity of his medical issues and willing to give 100% to him. Unfortunately we believe he might remain with us for the remainder of his life.
Rules For Adoption
An adoption application must be completed before any meet and greets or extensive information is given out. All of our animals are home fostered and we must be diligent about protecting our volunteers. Our adoption fees range from $0 to $500 and are determined on a per case basis. Our puppies that are to young to be spayed or neutered will be adopted out and a contract will be signed committing the adopter to perform the procedure as soon as the puppy is deemed ready by a veterinarian. This will be done no later than 6 months of age.
Our animals are rescues. We sometimes don't know everything about the animal as they are usually in our care for a short period of time. We disclose EVERYTHING we are aware of at the time of adoption. We cannot be responsible for an issue that occurs weeks or months or years after the animal is adopted. Opening your heart and your home to a rescue animal is a commitment. It is not for as long as the dog is easy to care for, or, until you get tired of it. It is for the life of that animal. We will be very selective as to who we allow to adopt our angels. We expect you to be open and honest during the adoption process.